118 New Units
Our U32 apartments were such a hit, the second phase started construction this spring and the progress is really moving along. Set to open fall 2019, the building is currently being constructed on the east side of the current building with 118 new units. The new building will feature all the same amenities as the first building, even offering more fitness area, hot yoga studio, community/game room and much more.
We are confident the units will have a high demand, just like the first units. Visit www.u32apartments.com to check out the floor plans. If you would like to tour the units, please call 701-356-7368.
The Big Lease Up
To kick off leasing, the Roers Property Management team is having a Big Lease Up event on Thursday, January 17th starting at 6PM. It will be held at U32 Phase I and is first come, first serve so if you're interested in renting at U32 Phase II, you don't want to miss this.
If you are planning to attend the Big Lease Up event, here is everything you must bring in order for your application to be processed: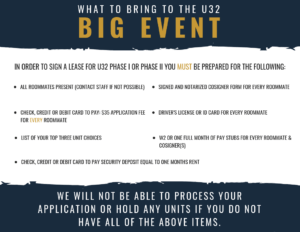 If you have any questions about the new building, the renting process, or the Big Lease Up event, please feel free to call 701-356-7368.